It was so fun to log onto Pinterest this weekend and see one of
my projects being pinned
. :) I don't know why, but I felt proud. And it was one of my favorite things to make...although I made it three years ago!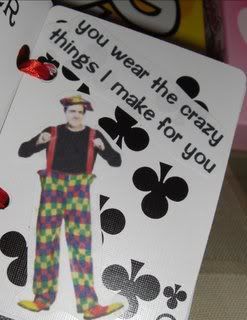 At the time when I'd made it, the "52 Things I Love About You" books were just starting to get around. I had seen two versions before I made mine. Both versions used playing cards as the cover but had printed cardstock for each page. So I decided to put the text and photos onto the playing cards.
Since then, there have been several different versions made. Mine was the first to use "like" instead of "love" because it was very early on in the our relationship.
Although, to date, we still don't use that other 4-letter word ;)
It's a shame I didn't take better pics of it back then. Maybe it's time for an update!